Komatsu genuine parts PC200-7 cylinder block 6731-21-1170
| | |
| --- | --- |
| Payment Type: | T/T,Paypal,Money Gram,Western Union |
| Terms of Trade: | FOB,CFR,CIF,EXW,FCA |
| Min. Order: | 1 Piece/Pieces |
| Delivery Time: | 3 Days |

| | |
| --- | --- |
| Packaging: | Wooden box, cartons,bags |
| Productivity: | 1000 |
| Brand: | komatsu |
| Transportation: | Ocean,Land,Air |
| Place of Origin: | Japan |
| Supply Ability: | 1000 |
| Certificate: | ISO90000 |
| HS Code: | 8431499000 |
| Port: | QINGDAO,SHANGHAI,BEIJING |
Product Description
Komatsu genuine parts PC200-7 Cylinder block 6731-21-1170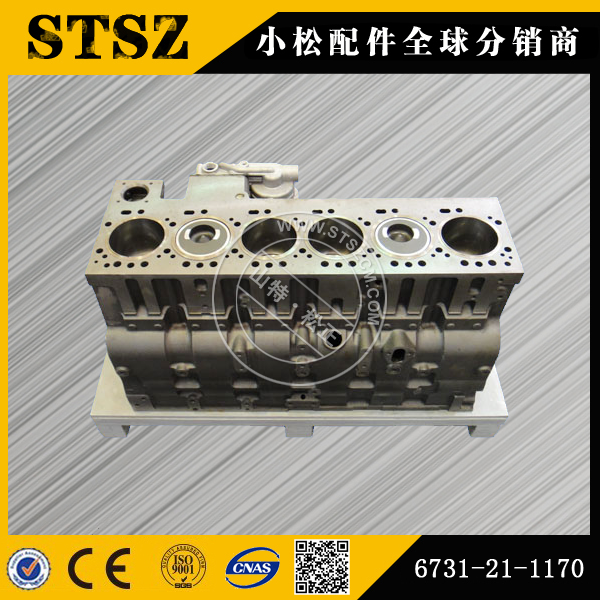 Our company is dealing in Komatsu genuine Japanese and Shantui spare parts with competive price. There are plenty kinds of Komatsu and Shantui spare parts, which is of good quality . So we have kept good business relationship with the importer from many countries.
We have products as follows:
engine, engine related parts, cooling system, fuel tank and related parts, electrical system, hydraulic system, main/revolving frame and related parts, operator's compartment and control system, guard, swing circle and related parts, travel and lower piping, under carriage, work equipment, marks and plates, accessory, miscellaneous, service and component parts.
1. Komatsu Excavator Parts-excavator spare parts:PC50MR-2\PC55MR-2\PC60-7\PC130-7\PC200-7\PC210-7\PC220-7\PC200-8\PC220-8\PC240-8\PC300-7\PC360-7\PC400-7\PC450-7\PC450-8
2. Komatsu Excavator Parts Parts- Bulldozer spare parts:D31/D41/D50/D51/D60/D85/D155/D355/D275/D375
3. Shantui bulldozer spare parts: SD08/SD11/SD13/SD16/SD22/SD23/SD32/SD42
Various brands:
Komatsu Excavator parts for series excavator:
PC15/PC30/PC40/PC50/PC55/60/PC70/PC130/PC200/PC220/PC300/PC360/PC400/PC450:
1.Whole Engine,Main valve, Main Pump,Undercarriage parts, final drive ass`y, Swing Machinery Ass`y,
2. Cylinder (boom, arm, bucket), boom, arm, bucket
3. Tooth, bush, pin, cab ass`y, shaft, solenoid valve, Monitor, controller, hose, tube, etc.
4. Engine Parts and related Parts
More Competitive SHANTUI parts:
1. Undercarriage Parts, track shoe ass`y, track link ass`y, front idler, track roller, carrier roller, sprocket;
2. Torque Converter Assembly and Transmission Assembly
3. End bit and cutting edge
4. Pump, valve and cylinder series
5. Engine parts (Camshaft, Crankshaft, Connecting Rod,Cylinder Liner, Piston, Piston Ring and Piston Pin.)
Brand: Shantui, Hitachi, Volvo, Hyundai,kobelco,HBXG, XCMG, XGMA, DOOSAN,Daewoo,...
Different machine: Excavator, Bulldozer, Loader, Grader,forklift
Pls inform us machine Model, and part number accordingly
Japan Brand excavators parts
MAIN PRODUCTS:
1 Undercarriage parts: track roller,carrier roller,sprocket,idler Wheel,track link assy,
2 Recoil Spring & tension cylinder, U yoke, excavator track adjuster
3 Bucket link(H-Link), Link rod(I-Link), Track guard
4 GET :bucket, Cutting edge, End bit, Bucket teeth, Bucket adapter, Side cutter
5 Pin and bushing: track pin & bushing, Bucket bushing & pin, Bucket ear,Shaft sleeve,bolts&nuts
6 Hydraulic part: Boom cylinder, Arm cylinder, Bucket cylinder

20HT-3 PC20-1/2/3/6 PC30-1/2/3/6 PC40-1/2/3/5 PC60-1 PC60-2 PC60-3 PC60-5 PC60-6 PC60-7 PC70-7 PC90-5 PC100-1 PC100-2 PC100-3 PC100-5 PC100-6 PC120-1 PC120-2 PC120-3 PC120-5 PC120-6 PC150-3 PC150-5 PC200-1 PC200-2 PC200-3 PC200-5 PC200-6 PC200-7 PC220-1 PC220-2 PC220-3-O PC220-3-N PC220-5 PC220-6 PC220-7 PC300-1 PC300-3 PC300-5 PC300-6 PC400-1 PC400-3 PC400-5 PC400-6 PC450-6 D31 D31A-17 D31E-18 D50P D60P D65E D65P D20P D75 D85A D95 D155 D80A D85A WA180-1 WA300 WA320 WA320-1 WA320-3 WA350-1 WA360-3 WA380-3 WA400 WA420 WA450 WA470 WA500

UH07-7O/N EX55 EX60-1/2/3/5/6 EX75 EX90-1 EX100-1 EX100-2 EX100-3 EX100-5 EX120-1 EX120-2 EX120-3 EX120-5 EX120-6 EX160-1 EX200-1 EX200-2 EX200-3 EX200-5 EX200-6 EX210-5 EX220-1 EX220-3 EX220-5 EX220-6 EX270 EX300-1 EX300-3 EX300-5 EX300-6 EX400-1/2/3/5/6 EX450-1/2/3/5/6ZAXIS55 ZAXIS70 ZAXIS100-1 ZAXIS100-2 ZAXIS200-1/6 ZAXIS210 ZAXIS230 ZAXIS230-5 ZAXIS240 ZAXIS330 ZAXIS360 ZAXIS450

SK07-N2 SK60-1 SK60-2 SK60-3 SK60-5 SK60-6 SK100-1 SK100-2 SK100-3 SK100-5 SK100-6 SK120-1 SK120-2 SK120-3 SK120-5 SK120-6 SK135-7 SK200-1 SK200-2 SK200-3 SK200-5 SK200-6 SK200-6E SK200-7 SK210-7 SK230-6 SK220-3 SK220-6 SK300-3 SK300-6 SK310-3 SK320-3 SK350 SK09 SK450 SK916 SK16

SH60 SH75 SH100 SH120-1/2/3/5 SH200-1/A3 SH220 SH300-2 LS2650FJ-2 LS2800CJ/DJ/EJ/FJ-2 LS2800FJ2 LS2800F2 LS3400EA LS3400FJ LS5800FJ

HD250SE-2 HD250-5/7 KD400SE-2 HD400SEN2 HD400-5/7 HD450-5/7 HD510 HD512 HD550-5/7 HD700-2/5 HD700-7 HD770-1 HD770-2 HD800-5 HD800-7 HD820-1/2/3 HD900-5/7 HD1023 HD1220SE-2 HD1250-5/7 HD1430 HD1880-7 HD900-7 HD880

EC210B EC240B EC290B EC360B EC460B

DH S55 DH55-5 DH220-2 DH220-3 DH220-5 DH225-7 DH280-3 DH320 DH320-2/3 DH450 DH130-7 DH280

R60-7 R130-5 R130-7 R200 R200-5 R210-3 R210-5 R210-7 R215-7 R220-5 R220-7 R225-7 R260-5 R290-3 R290-7 R300-5 R300-7 R320 R420 R450-3 R450-5
Caterpillar
3066 5I7530
3300 1N3576
3304 1N3574
3116 1495403
3408A 7N0858
3300 8N1187
3300 3306 8N6796
3406PC 110-5097
D342 8N6004
D330C 7S7070
D342 8N6000
C6.6 engine cylinder head
3412B 7W2243
3408B 7W2225
3304PC 8N1188
3304DI 1N4304
3066/S6K 1837171&1838174
3406DI 110-5096
3204 6I2378
3406E/C15 245-4324
3300 engine long block
C18 cylinder head
C12 cylinder head
C9 cylinder head
C18 cylinder head
C15 cylinder head

Cummins
6C long block
6B long block
4B long block
4BT 3903920
6BT 3935943
6CT 3971411
ISDE/QSB6.7L 4946586 bare head
6C 3973493 bare head
6B 3966454 bare head
6B cylinder head loaded
4B 3967460 cylinder head loaded
4B 3920005/396448 bare head
NH220 BM60971
ISL/QSB8.9L 4936714 cyl head loaded
ISDE/QSB6.7L 4936081 cyl head loaded
ISBE/QSB5.9L 3991773 cyl head loaded
K19 3811921/3044516
NT855 3418678
K19 3811985
ISF 3.8 cyl block 5289698
ISF 3.8 cyl head 5258274

Komatsu
S6D95 6209-21-1200
4D95 6204-21-1102
6D110 6138-12-1100
6D170 6162-13-1103
6D125 6151-11-1102
S6D105 6137-11-1012
S4D105 6135-12-1101
6D155 6128-11-1022

Detroit
8V-92 5149878
6-71 512770
4-71 5102771
3-53 6V53T 5198203


JINING SHANTE SONGZHENG CONSTRUCTION MACHINERY CO.LTD
SHANTE SONGZHENG Construction Machinery Co., Ltd. has been a base in the optimization of engineering vehicles since 2000. We specialize in the production and supply of excavator, bulldozer and Wheel loader components. Our detailed catalogue offers a complete selection of OEM parts including the idler, bushing, sprocket, track roller, carrier roller, track chain, track shoe, hinge pin, tension device, excavator bucket, etc. Also available are various electric and hydraulic parts. The performance of a machine is only as good as the sum of its parts. SHANTE SONGZHENG Construction Machinery has been a bastion in the optimization of engineering vehicles since 2000. As the designated OEM partner for both KOMATSU and SHANTUI, we specialize in the production and supply of both excavator and bulldozer components for these two brands. Our detailed catalogue offers a complete selection of OEM parts including the idler, bushing, sprocket, track roller, carrier roller, track chain, track shoe, hinge pin, tension device, excavator bucket, etc. Also available are various electric and hydraulic parts. Our pure filter elements are applicable for Komatsu excavator models including the PC60-7, PC130-7, PC200/220-6-7, PC300-6-7-8, and PC400-6-7. Our headquarters can be found within the KOMATSU excavator manufacturing base of Jining city, Shandong province. Trusted suppliers allow us to provide quality products at highly competitive prices. Company growth and expansion can be attributed to the combined effort of our collective staff. Under the guidance of optimized management, we are gradually emerging as a mature enterprise with an outstanding capacity for design and production. Effective market analysis allows us to manufacture products in accordance with fluctuating demands. As a people-oriented enterprise we prioritize the cultivation of industry talent. After more than a decade of development, we now have 35 sales associates, 10 after-sales representatives, and a large-scale warehouse that spans more than 3,000 square meters. This mega storage facility contains nearly 10,000 types of products, valued at over 10 million RMB. Quality components and sincere services are just our way of showing appreciation for the ongoing trust and support of our valued clientele. We have established long-term business relations with over a thousand customers from around the world. Our products are now available in more than 50 countries and regions including South America, South-East Asia, Europe, Africa, Oceania, etc.
Company Name: JINING SHANTE SONGZHENG CONSTRUCTION MACHINERY CO.LTD
Product/Service: Komatsu genuine parts , Komatsu excavator parts , Komatsu dozer parts , Komatsu loader parts , Komatsu engine parts , Komatsu hydraulic parts
Contact Person: Mr. Frankxu
Tel: 86-537-3281290